First dates are as crucial as any other "firsts" in your life. It's a make or break situation and should never in any case be considered lightly. A well-planned date will spell the difference between a future relationship or just a mere casual acquaintance. A little bit of research about your date will help you decide the perfect theme for your special day or night out. It is important to know what their interest are or what excites them. You don't need to stalk their Facebook or Instagram page, you just need to get hints so you'll have an idea what might work.
1. Go traditional: A romantic evening restaurant reservation
I know that this sounds very normal and traditional but you can spice the scenario a bit by booking to a well-known restaurant. This does not mean it should be the fanciest or most expensive. Look for a place that would have a great food quality. Make an advance research on their specialties, you might want to impress your date on your knowledge about the food they serve so you may also get to ask if she's allergic to any of the ingredients. What's the connection? It makes you sound very well-prepped and even caring. That's additional points for you, Romeo.
2. Catch some sun, hit the beach.
Does she like getting a tan or is she the type who likes to get her toes in the sand? Plan a casual yet romantic beach date. Don't forget to check the weather and always be prepared to have a Plan B just in case nature tries to test your love and devotion on your first date. But if everything goes well, aside from just admiring the waves and the sunset, you may also want to ask her if she wants to take a dip. Nothing makes your getting to know stage more refreshing than a relaxing splash to the warm water.
3. Relive childhood moments, get a carnival ticket.
Is she into carnival rides and games? Take her to a local carnival then! What's good about such places is that it tends to relieve the child within the both you, thus making your date more relaxed and casual. Not much pressure compared to an overly formal coat and tie event. Pro-tip: Try to win a big bear for her too.
4. Appreciate art and history, visit a museum.
Some girls totally dig art and history. Take her to a museum and learn together. Women appreciate guys who care about their interests and who genuinely love to learn new things. Pro tip: Prepare your own set of trivia. You'll be surprised how impressed she'll be with your "Did you know…" ice breakers. Trust me, intelligent facts are better than cheesy pick up lines. Warning: Be careful not to be the annoying know-it-all date though. Read again: just give trivia not the entire Wikipedia.
5. Add spice: Book a cooking lesson.
Research any one night (or day) cooking lessons within your area. This will appeal best to girls who are passionate about cooking or even baking. Don't worry if you're no Gordon Ramsay, that's the reason why you'll attend a cooking lesson anyway. This will be the perfect opportunity to compliment how well she knows her way around the kitchen as well.
6. Health conscious? Jog in the park.
Dates don't necessarily mean that the setting is required to be very formal. If your apple of the eye is a health buff why not ask her out to have a quick jog in the park? Benefits: good for your health and you won't be tied up to formal and uneasy conversations which are certified first date bummers. Since it's outdoors too, you can talk about anything under the sun.
7. Let her into a local destination secret.
This will work well if she's not from your zip code and she's still settling in. Take her to a secret spot where only locals know. This can be a beautiful river, spring, camp site, old restaurant, etc. Any local gem that's not listed on the first page of Google when she tries to search your area would be perfect. It will make her feel special and welcome.
8. If you have the budget, go for the yacht sunset.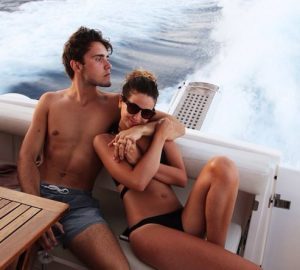 If budget is not a problem, take her yacht cruising. They say sunset is the most romantic. Such fancy date will surely bring sparkle to her eyes. If you know how to operate the yacht, teach her some basic maneuvers too.
[Read-More] Romantic Dates for Rainy Days at Home
9. Schedule a wine tasting tour and be instant connoisseurs.
This one's a little unique and interesting. It's usually booked in groups but you may ask the reservation staff if you could get an exclusive set up. Connoisseur or not, this will surely tickle the senses.
10. Tour around the city.
Is she the new girl? Tour her around. Show her the most popular destinations and hottest spots. It is best if you know a little bit of history so you could have interesting talks about the places too.
11. Have fun on theme parks.
I know this might sound a little high school but who wants to feel old? If she's game, you two can brave the rollercoaster once again and have the best night ever. Who knows you might get a free hug down the slope!
12. Classy Picnic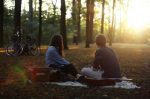 This can be very common but it will be extra special if you know how to pick the place. Take her to the most beautiful part of the park; always remember that simple things becomes magical if you put a little dash of effort and planning. Offer to prep some food too — and by prep, please don't give in to the temptation of bringing takeouts. You've been warned! On the other hand, don't stress yourself with the food selection too. Check online recipes for very simple picnic dishes. Some surefire wins are veggie sandwiches, oven-fried chicken, creamy pasta salad, cranberry and ginger tea punch, etc. The menu is endless, take your pick!
13. Skydiving, Bungee Jumping and the likes. Go extreme.
Is she into extreme sports? Is bungee jumping and skydiving her thing? Then book one over this weekend. Adrenaline rush can be romantic too! It's a plus if she haven't tried those but is dying to take the plunge too. It will surely go down to history as one of the most memorable days of her life.
14. Sporty chick
Take her to the ball game! Is your Juliet a sports fanatic, buy the ticket to the next game. Put on a little bet or wager on who's going to win or what the final score will be. This adds to the excitement.
15. Fun road trip
You might want to both try a new restaurant outside the city or town. Make sure to make the travel enjoyable by engaging her to interesting conversations or even games. This is the perfect way to get to know her better and who knows, before you even reach your destination you'll have an idea on what your (hopefully) second date will be.
16. Oldie but goodie, treat her to an outdoor cinema.
Outdoor or drive-in cinema are old school choices, but you know what they say about old school right? Old school is still cool. This would perfectly work for dates who are into flicks especially the classics. If this works, expect a lot of cuddling over DVD Marathons in the future. You've got to make this work!
17. Speed it up: Go Karts
Fun and exciting will always be the perfect combination. Unleash the race car drivers in you both! With adrenaline pumping it will surely be a fun night.
18. Enjoy in a Karaoke Bar and belt out some serious notes.
First dates should not be very limiting to formalities and regular getting-to-know-you norms. What? You're no Adam Levine? Who ever said you need to be one to enjoy the night? Remember, what matters most is to show your date that you're not afraid to have fun and the last thing she'll see on your CV is the word boring.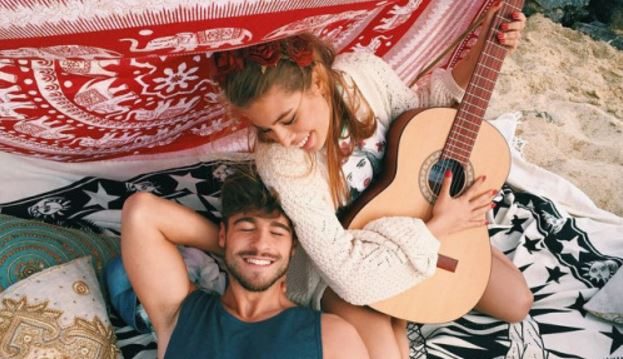 19. Plant trees.
For the environmental conscious ladies, this would be a very unique and earth-friendly option. Check out tree planting schedules your local government or any organizations had planned and sign up. She'll be impressed about the idea and it's a guaranteed turn on to meet someone who share the same advocacy. You help save our mother planet and (fingers-crossed) you get the girl too. Sounds like a smooth finale, right? Another pro-tip: Make sure that you are sincere with your advocacy though, you should never do this for the sole purpose of impressing her.
20. Fun run, fun date.
Marathon for a cause is a thing now and this could also be one of the best modern date ideas. This is a nice date venue because you get to flex some muscles while you get to know more about your date. it's outdoors so it's almost impossible to run out of topics you can talk about. After finishing the marathon, you can casually grab a few drinks (or any non-fat organic beverages) on any nearby restaurant or pub.
21. Arts and crafts
So, you met on an art exhibit? Then this creative date idea is perfect for art enthusiasts. Attending an arts and crafts class is a no brainer. Learn more about shades and brush strokes together and we can only hope that it's the beginning of a colorful relationship. Win-win!
22. Poetry reading
If your date's interest includes poetry, prose and haikus then this is one of the best options. If by any chance, you are a member of a poetry club, then you may want to take her to a reading/sharing night. Impress her with your poems and talk about your favorite poets over dinner.
23. Volunteer on a community kitchen.
You wouldn't really think this is an ideal location for a first date. But if your date is a genuinely caring and sharing person, then this will surely melt her heart. Guys are not known for showing their sensitive side but being part of such a wonderful "give back" activity is pretty impressive. But before you join the next community kitchen, check out the pro-tip on #19 again.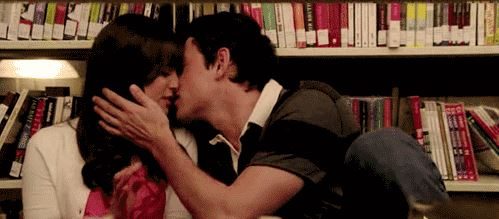 24. Go to a local bookstore.
If your date is a book aficionado, you might want to start your day on a local bookstore and learn about the selections she recommends. You'll be surprised to know a lot of things about a person by learning about the kinds of books they read.
25. Attend a car show.
Car shows aren't exclusive for boys night. Cars, especially the classic models are always great topics. Girls who knows a lot about engines are absolutely sexy. So rev up your dating game and head to the nearest happening.
26. Circus, magic and trapeze
You'll both be amazed as you watch the nerve-racking stunts and magical presentations. It doesn't need to be Cirque du Soleil, there are a lot of great performances around your area for sure.
27. Music festival coming up?
Then save the date! It's always fun to attend music fests. Who knows this might be the perfect venue to validate if you play perfect tunes together.
28. Paintball Challenge
What's more exciting than to team up and play some rugged paintball. This is a good exercise and will enhance strategy and tactics building which will be vital if you're serious on being on a relationship.
29. Walk the dogs.
Both of you a canine lover? Then it's time to go out on a double first date. If you'll be exclusively dating it is necessary for the pets to get along well too, right?
30. Stargazing
Grab some food, blanket, lamp and bug spray and voila! You're all set!
More Date Ideas?
Check out our collection of all date ideas for your perfect date night.